Groove Funnels Vs Kartra- Which is the best marketing solution ?
If you are an online business or a digital marketer you clearly know the hustle of finding a perfect tool that would manage all your marketing needs. And it would be frustrating to use several different software and tools to manage your online business.
Here, I have compiled the list of features, similarities, differences, and pricing of two prominent tools in the digital marketing industry; GrooveFunnels vs Kartra.
Both GrooveFunnels and Kartra, offer a wide range of services and tools for entrepreneurs and marketers to help them run their businesses seamlessly. While, having several similarities and the fact that both tools have been developed by the same person; there exist some differences that make one of them stand out.
To know, which one wins in this race of digital marketing between GrooveFunnels vs Kartra, keep on reading to the end.
GrooveFunnels
So first, let's dig in some information about GrooveFunnels. It was developed by Mike Filsaime, the CEO of GrooveDigital. Previously, Mike worked for Kartra, but in 2018 Mike and his colleagues ventured to build a platform for small online businesses that would help bring in more traffic and generate sales, thus increasing profits.
GrooveFunnels was created as an easily accessible and affordable tool for marketers to provide them with services like page funnel builder, CRM and email marketing, webinar hosting, e-commerce, blogs, help desk, and much more.
Kartra
Kartra was developed in 2016 by the partnership of Andy Jenkins and Mike Filsaime. They had previously established marketing software like WebinarJam and EverWebinar but their goal was to design an all-in-one marketing software that would meet all the needs of a digital marketer.
With Kartra, online businesses were able to create landing pages for their businesses, do email marketing, develop membership websites, perform quizzes and surveys, and so on.
Features:
Let us have a look at the features of GrooveFunnels and Kartra, so we can have a clear picture of the similarities and differences between the two.
GrooveFunnels
You can gain access to the following tools and apps in GrooveFunnels
GrooveAffiliate
GrooveAffiliate program rewards its users by providing them with a percentage of commission, every time a new user signs up through their link. There is a 40% commission for paid members while the free members get to have a commission of 20%. Now, that's really impressive!


GrooveAffiliateAssist
In the groove affiliate assist, you and the person signing up from your link both get commission. How? Let's say, a person registers on the Groove free program through your link so that account is affiliated to your account for as long as they stay on Groove. Let's say, the person who registered through your link gets awarded by Groove on good performance or tops the list in creating content, so they get a half commission for their work and the other half goes to you. Since they signed up through your referral link.


GroovePages
GroovePages let you build landing pages, websites, and funnels that are easy to use and SEO friendly.


GrooveSell
GrooveSell provides you with a digital platform where you can sell digital and physical products, services, training, and email subscriptions. In this way, you also get access to GrooveFunnels payment gateways.


GrooveVideo
This tool lets you upload videos of your product through an embed code and you have the authority to split test, add tags, check the analytics, and engage CTA.


GrooveMember
GrooveMember is the ultimate solution, to build just in minutes, a membership site that would be having all your contextual data whether paid or free, locked or unlocked. You can use the drag-and-drop builder to create a theme of your own choice.


GrooveMail
GrooveMail comes up with a wide range of features including bulk email service, broadcasts, sales email, cart abandons, text and voice broadcasting, follow-ups, and much more. It helps online businesses by providing email marketing and CRM.


GrooveKart
GrooveKart is solely an e-commerce paradigm of GrooveFunnels where online businesses can sell physical products like clothing, jewelry, health supplements, merchandise, and so on.

Its features include easy to use drag-and-drop page builder, customizable high-converting templates, same page checkout, help desk, related items pre and post-checkout, pre-transaction upsells, reviews under your control, import your Shopify stores easily within seconds, timers and scarcity, social proofs and reviews, complete sales funnels, upsells, down sells, order bumps, retargeting, analytics, and much more.


GroovePay
GroovePay is an easy method of payment that charges only 0.25$ per transaction in comparison to other payment gateways that charge you as much as 8$ per transaction. It also offers you a flat rate pricing no matter whether you reside within the USA or outside.


GrooveAds
GrooveAds provide you specialized ads on Facebook, Google, and YouTube. You have the option to choose from a variety of ad packages that would help generate hundreds and thousands of sales on your website.

Some of the features of GrooveFunnels are under development and are expected to launch at the start of 2021. They include:
GrooveWebinar
With GrooveWebinar, you would be able to host live and automated webinars with customizable themes and a sales page to increase leads.


GrooveSurveys
Getting feedback from customers regarding their experience with your business is the best way to retain sales lead. GrooveSurveys would fulfill this need for you.


GrooveBlog
Through GrooveBlog you would be able to easily manage your blog and sales website on a single platform.


GrooveCalendar
GrooveCalendar would be a great way to schedule your campaigns and email listing, so you don't have to worry about writing it on notepads.


GrooveDesk
GrooveDesk would present a help desk for your customers through features like live chat, team inboxes, consultations, etc.
Kartra
Since the developers of GrooveFunnels and Kartra are the same. So their features are much alike.
Kartra Checkouts
Kartra Checkouts is one of the best tools for online businesses as it helps them create checkout pages where they can add features like multiple price points, payment in installments, 1 click checkout, tagging the buyers, upsells, order bumps, and more.


Kartra Pages
Kartra Pages comes with thousands of built-in templates to create your landing pages and customize each of them according to your needs.


Kartra Mail
Kartra Mail provides you the solution for email marketing through automated emails, customized templates, personalized messages, behavior automation, and much more that would help increase sales.


Kartra Leads
Through Kartra Leads you can have in-depth insights about your sale leads about the products, subscriptions, and training they have bought from you.


Kartra Funnels & Campaigns
This tool allows you to create automated funnels and campaigns for your business that would target potential buyers and increase your leads.


Kartra Videos
Kartra Videos give you full control over how you want to play and upload your videos; whether you want to mute them at the start or embed the video on some other page. You can do it all.


Kartra Membership
Like the one in GrooveFunnels, Kartra Membership lets you develop membership websites where you can upload courses, subscriptions, videos, and so on.


Kartra Helpdesk
Kartra helpdesk provides ultimate support through the services of online chats, ticketing system, integrated billing, and canned response, etc.


Kartra Calendars
Kartra Calendar eases the hassle for you and your customers with its calendars where customers can check the days you are already booked and select a day for themselves.


Kartra Forms
With the help of Kartra Forms, you can easily create forms so that your returning customers don't have to go through the trouble of filling in their information every time they purchase something from you.


Kartra Affiliates
Kartra also offers the affiliate program through which one can earn a 40% commission on each signup and purchase of products. But, Kartra doesn't let everyone become a part of its affiliate program effortlessly. First, you must fulfill some conditions.


Kartra Marketplace
Kartra Marketplace is a feature through which you can either sell your services to other Kartra users or buy their services for your campaigns.


Kartra Agency
With the feature of Kartra Agency, you can contemplate all of your client's information, billing details, and purchases on a single web page.
Similarities Between Groove Funnels and Kartra
Since we had a quite detailed overview of the features, you might have noticed many similar features in GrooveFunnels and Kartra. Like, affiliate programs, pages, membership, videos, and mail.
Differences Between Groove Funnels and Kartra
Now let's have a look at the differences between GrooveFunnels vs Kartra.
Technology:
Updated technology is the key to good software functioning. GrooveFunnels takes this perspective into account and it is based on up-to-date modernized technology while Kartra works on the outdated technology on which it was first developed.


Trial/Free plan:
Kartra doesn't offer any free plan to its users rather they can have a 14 day trial at the price of 1$. On the other hand, GrooveFunnels offers a completely free plan where the users can get access to some of its features like GrooveSell, GroovePage Lite, and GrooveAffiliate.


Affiliate program:
GrooveFunnels offers 20% commission to its free plan users and 40% commission to its paid members. On the other hand, Kartra offers a 40% commission to all its users. But, you can easily become a part of Groove's affiliate program even if you are a free user while in Kartra only specific users are accepted for the affiliate program.


Novelty:
Since Kartra has been in the business for many years now so it is completely developed. Contrastingly, GrooveFunnels is still in the Beta mode where many new features are being introduced and tested. So there are chances of bugs and errors whereas Kartra is fully tested and functional. Anyway, Groove will be fully functional by the year 2021. You can check Groove rollout timeline here.


Webinar hosting:
Kartra doesn't have the feature of hosting webinars because its company already has two software; WebinarJam and EverWebinar for that purpose already. So you have to purchase them separately for a price of 499$/year. Conversely, GrooveFunnels is soon going to launch GrooveWebinars in 2021so it would surely have an upper hand over Kartra.


Built-in templates:
Kartra offers a variety of built-in templates for landing pages, emails, funnels and campaigns, while as for now, GrooveFunnels has limited templates for landing pages.


Blogs:
Groove is soon going to launch GrooveBlog so that you can manage your sales page and blog page on a single platform. Whereas, Kartra doesn't have any blog desk on its forum.
Pricing
The pricing plans of GrooveFunnels and Kartra also differ with respect to packages and features.
GrooveFunnels
The pricing plan of GrooveFunnels is based on the following 4 categories;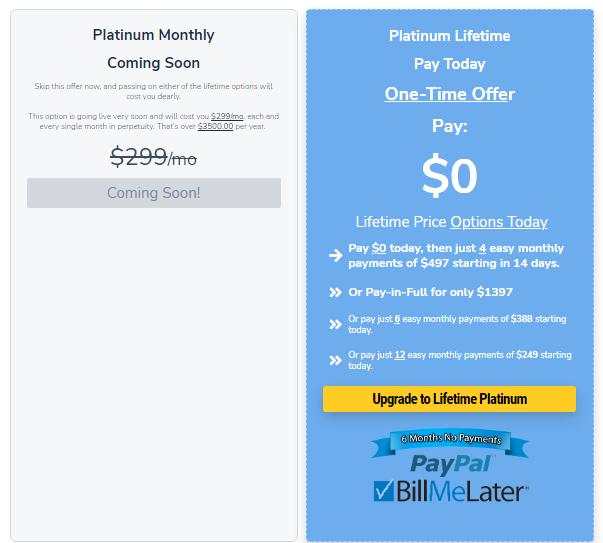 Basic: Anyone can register and work on Groove through this plan since it is free. But it has limited features.
Silver: This plan is priced at 99$/month including some of the important features for a digital marketer like email leads, marketing, cart abandons, etc. with a 40% commission. This offer yet to come.
Gold: The Gold plan is 199$/month with some more add-on features that are not accessible in the silver package. This offer yet to come.
Platinum: Lastly, the Platinum plan is going to be launched in 2021 with the perks of all the new features and lifetime access just by paying 1397$ only once or 299$/month.
Kartra is also based on 4 types of pricing plans;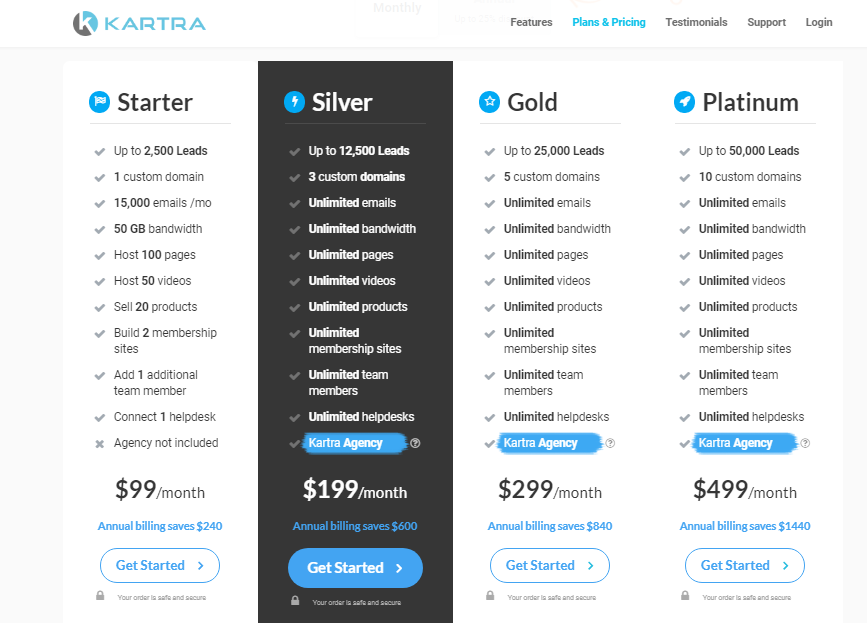 Starter: The starter plan is priced at 99$/month with access to some of the basic features to run your online business.
Silver: The price of the Silver plan is 199$/month. Some features that were available to a limited extent in the starter plan are unlimited in this package. It also gives access to the Kartra Agency which wasn't available in the starter package.
Gold: The gold plan is valued at 299$/month with the benefits of increased leads and more custom domains.
Platinum: The platinum plan is available at the rate of 499$/month. It provides you 10 custom domains with up to 50,000 leads.

"Groove" Training, Events & Workshops
GrooveDigital Academy
GrooveDigital Academy is that the marketing resource collection where you'll find tutorials, training, live webinars and replays.


GrooveKon
GroveKon is an annual live conference held by Groove Digital where participants can connect and network with one another . Admission cost $497/- and is tentatively set for January 2021.

You can get GrooveKon tickets for free of charge if you check in for Marketers Cruise – where for the last 15 years every January a gaggle of online marketers get together for every week of networking, learning and island hopping within the Caribbean.


GrooveFest
GroveFest is that the biggest After-Party for Traffic & Conversion Summit in San Diego organised by Groove Digital.


GrooveWorkshops
Free workshops with Groove Digital partner Dave VanHoose and Rey Perez. This happens 4 to 6 times a year.
Conclusion
With the review of all the features, differences, and pricing of GooveFunnels vs. Kartra, let's conclude this discussion with a final verdict of which is the best marketing software?
Without any bias, my vote goes for GrooveFunnels.
Why?
Because;
GrooveFunnel lets you use their tools without paying them a penny until you upgrade to a plan.
The free users get to enjoy the affiliate program and earn a commission for free. I mean you are not paying anything yet you are earning.
GrooveFunnels provide you an all-in-one digital marketing solution through its various available and upcoming tools. Otherwise, you might have to spend hundreds of dollars every month to use them somewhere else.
Since Groove is developed on updated technology, so you don't have to worry about the latest trends and updates in digital marketing because Groove will do that for you.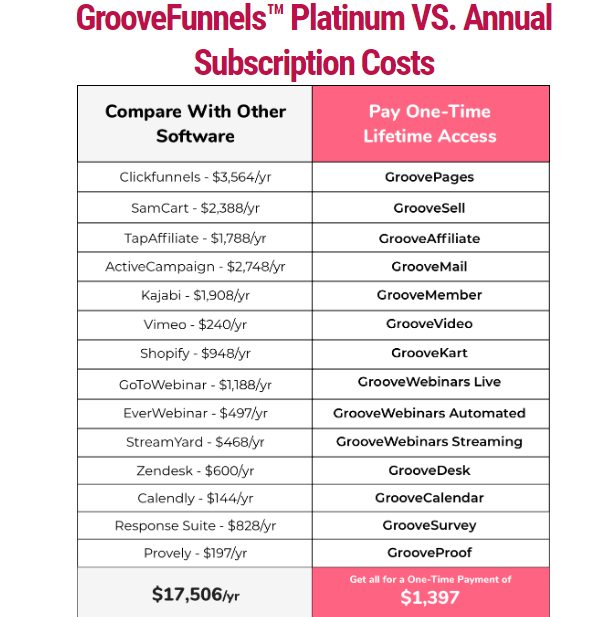 I think these reasons should be enough for you to sign up on Groove for free NOW and start earning. What are you waiting for?

Click here to have free access to Groove before they change their mind and make it paid.